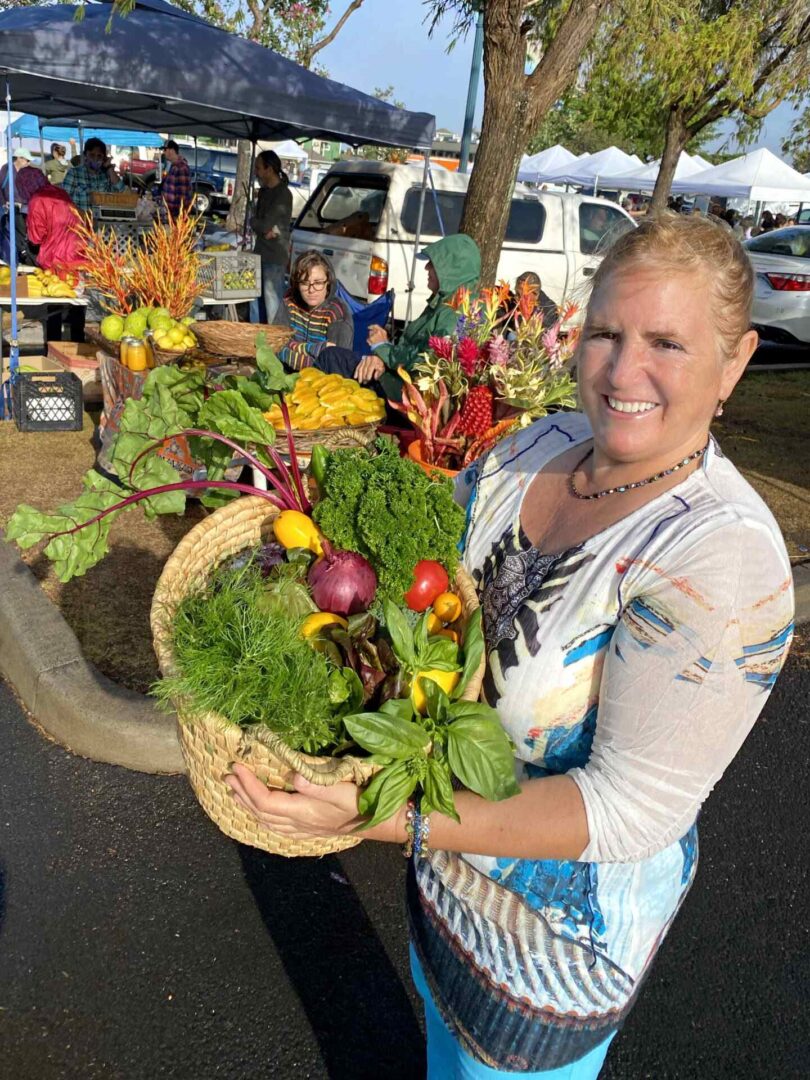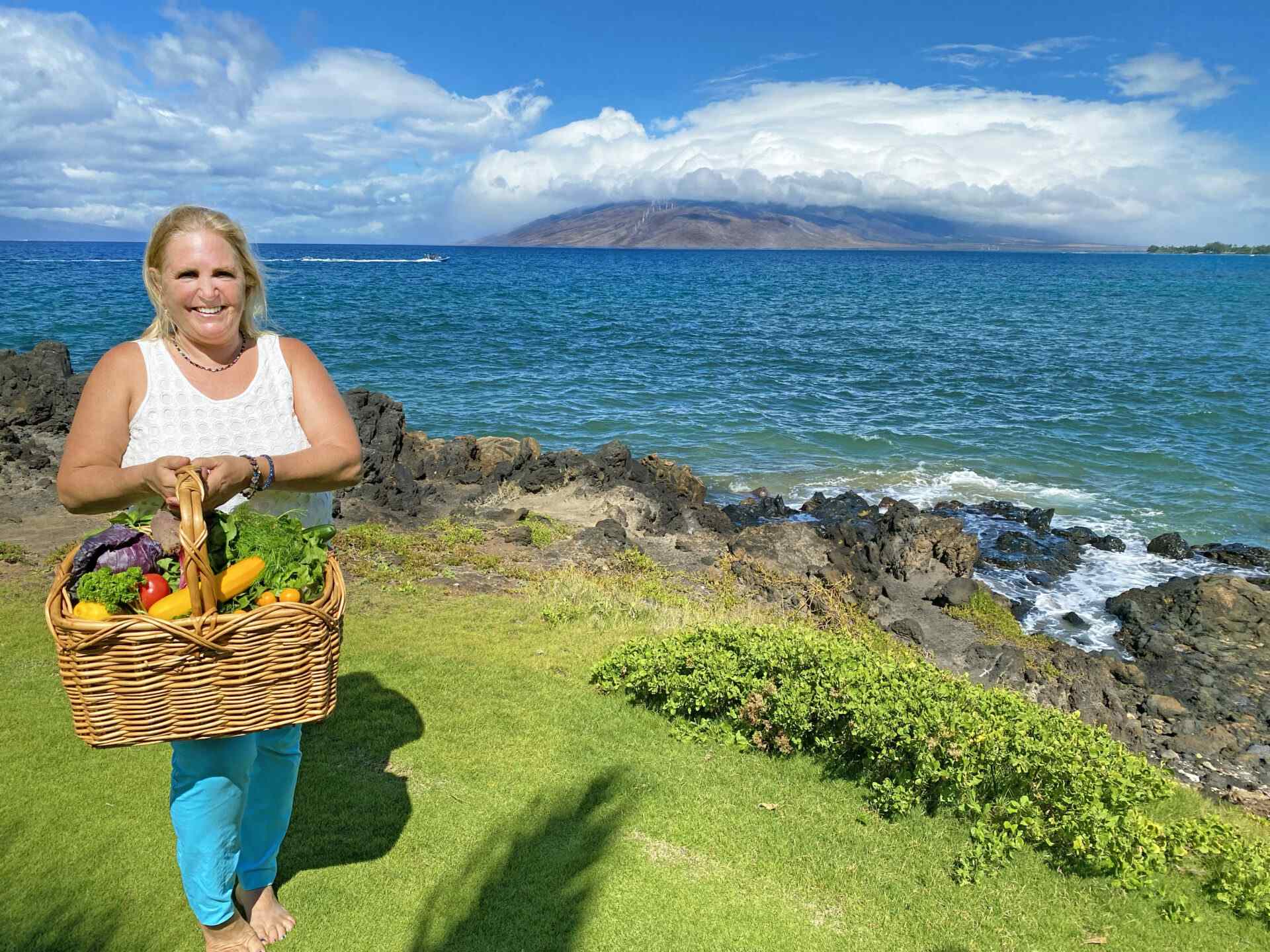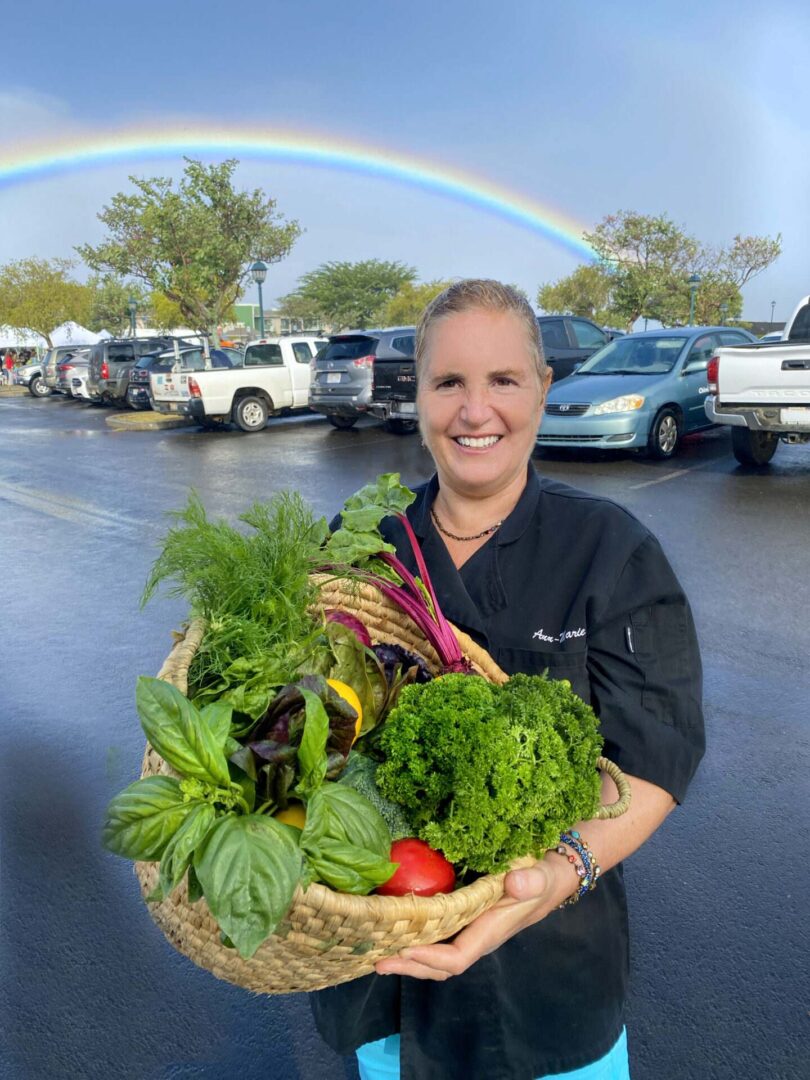 Aloha and welcome to my company, Maui Fresh Chef. My name is Ann-Marie and I hope you have found yourself here because of your love and appreciation of food. Maybe you are looking to have someone cook meals for you while you are on Maui, or you desire to learn something new to grow your awareness about the possibilities of plant-based eating or you have other culinary curiosities that I can help you with.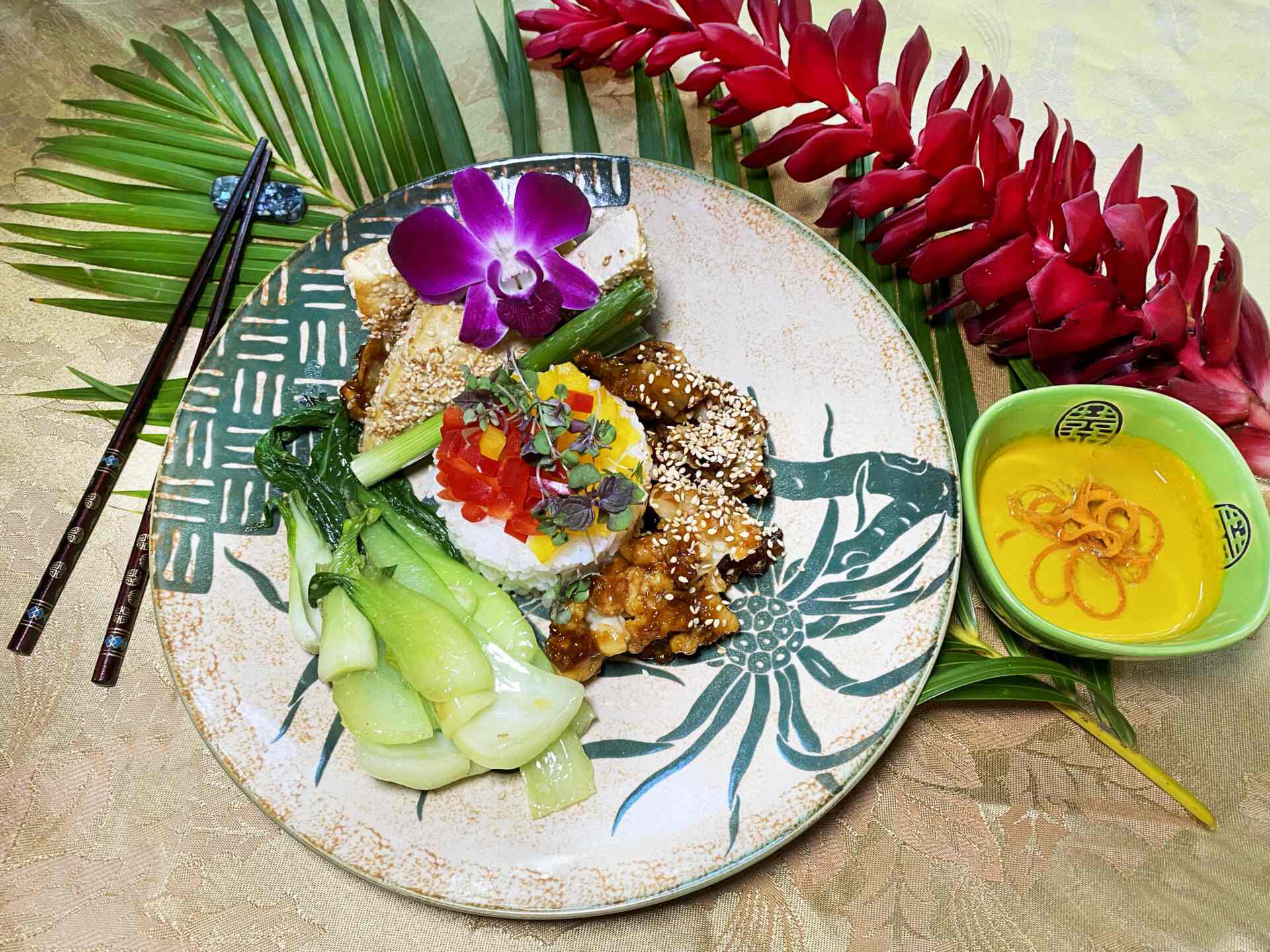 Enjoy Maui Fresh Meals in the Comfort of Your Home or Villa
Since 2008, Maui Fresh Chef has provided in-home chef services and private cooking classes on Maui. We now specialize in plant-based island fresh cuisine. We create meals for you and your guests to savor. Leave the shopping, planning and preparation to us so you can have the vacation you imagined with your family and friends.
Here on Maui we have access to some of the freshest ingredients available. The farmer's market in Kula has an abundance of locally sourced produce and products on Maui. Inspired by the farmers who grow and harvest the food, Chef Ann-Marie incorporates the ingredients she sources into each and every one of her recipes and meals she creates. Fresh Maui macadamia nuts, local wasabi, shiso and micro basil greens, baby red and green romaine lettuce, lilikoi (passionfruit), Maui mangoes, juicy local lemons, Kula strawberries, arugula, sweet basil and ripe tomatoes are her favorites.
When you are here on Maui we want you to spend your time enjoying everything the Valley Isle offers. Return to your villa to appreciate the view, spend valuable time with your family and share a meal with your guests. Our discerning clients cherish the in-home dining experience because it's intimate, created uniquely for them and of the highest quality.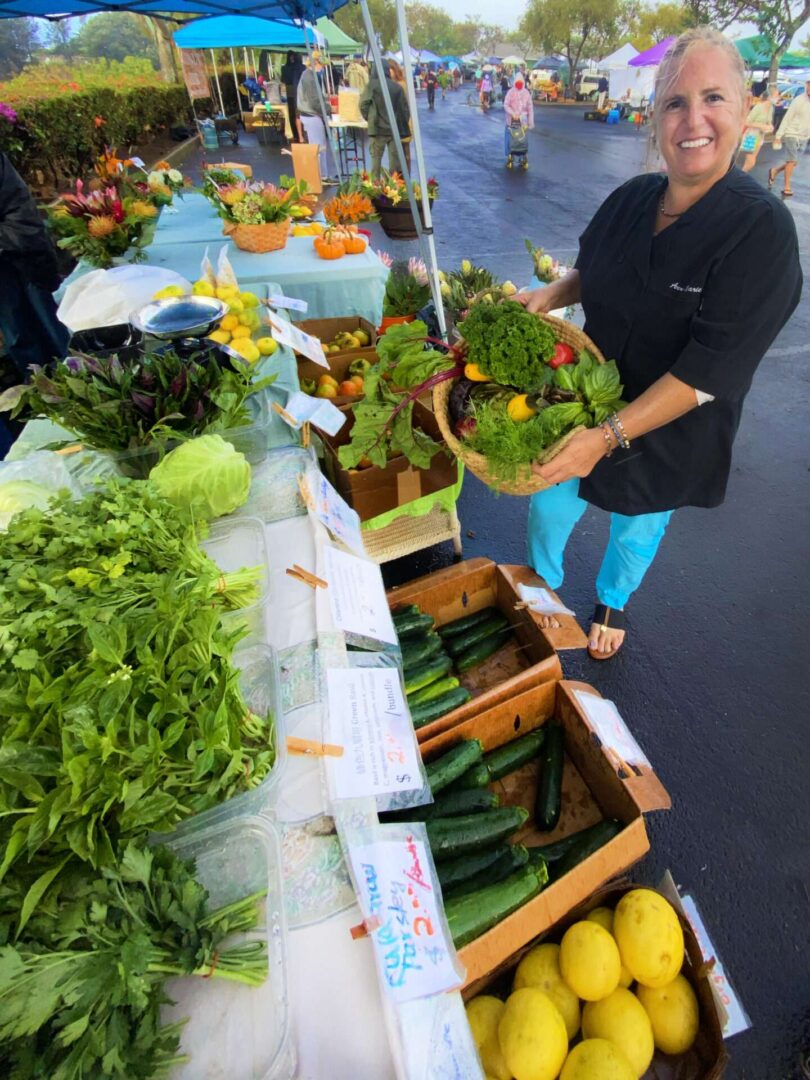 Private Cooking Classes and Multi-Day Experiences
If you imagine eating well while still being health-conscious, come spend a day or longer learning alongside Chef Ann-Marie. Take a tour of the local farmer's market, learn about the local produce and create a meal from scratch. All classes and culinary-experiences are customized for your exact needs. Each of Chef Ann-Marie's recipes have been developed over decades after cooking thousands of meals.
During the past year one of Chef Ann-Marie's inspirations has been to adapt more and more items into delicious plant-based creations. It's not only about following a recipe, it's about how to think creatively in the kitchen and have a process to create delicious meals for yourself, your family and friends. Learn how to use ginger and lemongrass, how to create raw crusts from macadamia nuts and dates, and learn to make creamy sauces and dressings from scratch. Did you ever wonder how to make delicious baked goods without eggs, butter or dairy? Let Chef Ann-Marie show you how to be more efficient in your own kitchen so you can create dishes that wow your taste buds.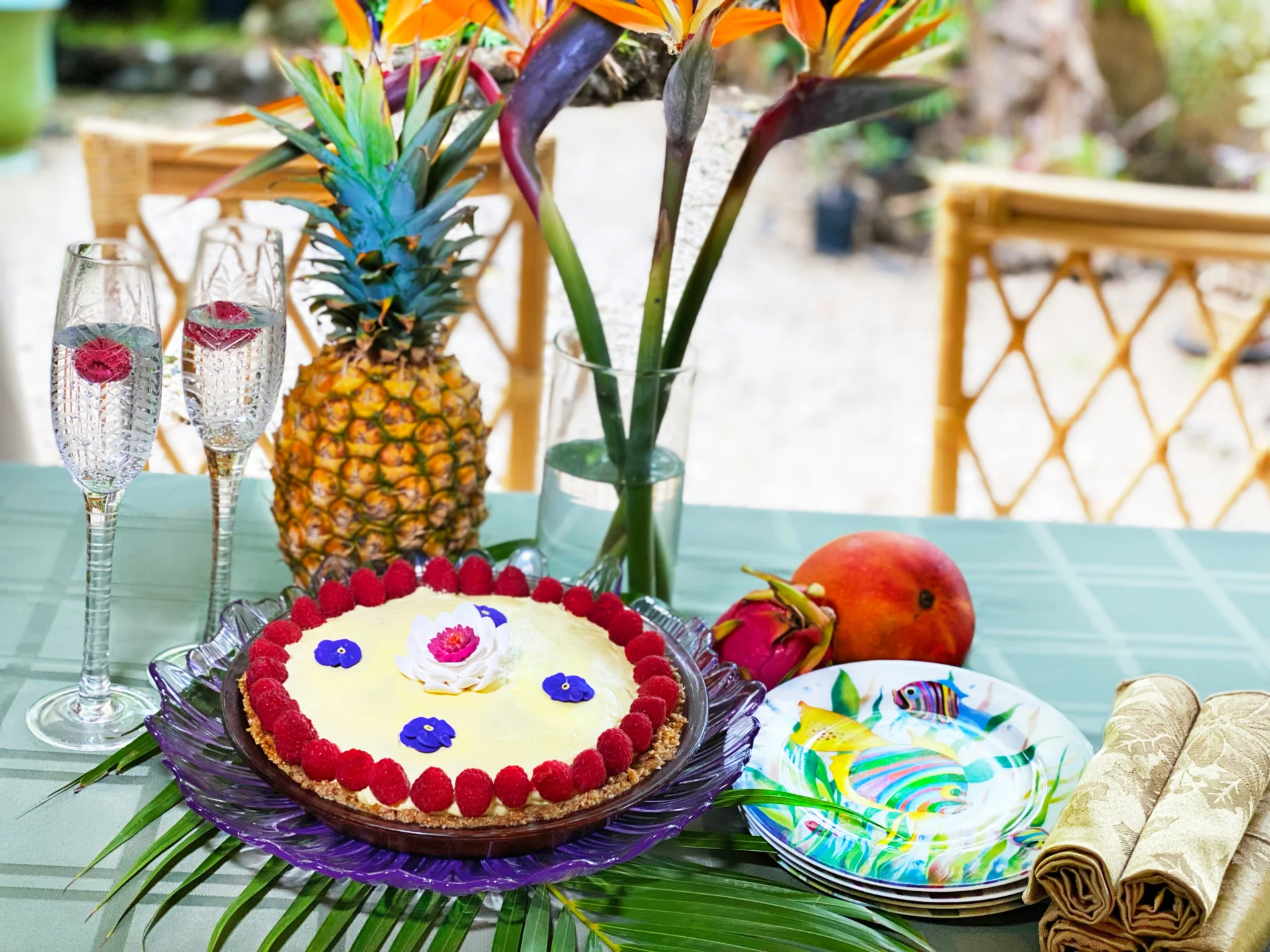 Vegan Culinary Lifestyle Services
For over 30 years Chef Ann-Marie has been following a vegetarian diet. In the past decade she has been exploring vegan fusion cuisine and she has been trained in vegan and raw food preparation. During her travels to Indonesia she has learned from some of the best global chefs and on her own culinary journey she recognizes the need for inspiration, guidance and support in being successful in living the vegan lifestyle. We are in this together.
Consulting services include a step-by-step custom plan to support you in your transition to becoming vegan or leverage what you already know to elevate your skills. What tools do you need for your kitchen? What ingredients will you need to be successful in your transition to a plant-based lifestyle? Do you want your children and family to be on this journey with you? We will create a plan and explore the mindset you need in order to succeed. Learn recipe creation and execution. Have fun creating menus for you and your family. These services are available on Maui and worldwide both in-person and online.
Maui Fresh Chef Testimonials
Submit Your Testimonials
Maui Fresh Chef Testimonials